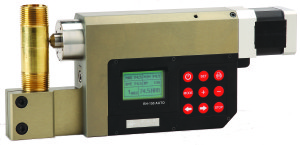 Today, many individual users and industries alike depend on Rockwell hardness testers for quick and accurate measurements of the hardness of various materials. This modern tool was in fact first conceived over one century ago, and has been used and improved ever since to become the highly accurate instrument it is today.
Differential Depth Measurement
Since 1908, a hardness testing method known as differential depth measurement had been in use, developed by Paul Ludwik, an Austrian academic. This method of testing hardness involved creating an indentation in the material under two different loads, and assessing the difference in indentation depth under the two loads. The idea behind this differential depth test was to negate factors causing errors in measurement results, including imperfections on the surface of the material being tested. By including an initial indentation, differential depth measurement tests effectively bypassed these factors.
The Rockwell Design
In 1914, two brothers Hugh M. Rockwell and Stanley P. Rockwell of Bristol, Connecticut developed a new instrument based on the differential depth measurement test model. The tool was especially designed to be nondestructive – that is, to do only minimal damage to the material being tested by making as small an indentation as possible. To go along with the tester, the brothers also developed the Rockwell hardness scale, which ranked the hardness of tested materials. The Rockwells' product was first patented in 1919. Ever since, the original design has slowly and surely been improved upon. As a result, newer, more accurate, and more portable hardness testers began to emerge.
Modern Rockwell Hardness Testers
Today, Rockwell hardness testers continue to be used as a trusted and accurate way of measuring the hardness of a variety of materials. They are commonly used to test products in the metal manufacture process, as well as in several global trades such as the automotive industry. These Rockwell products continue to pioneer the field of hardness testing, becoming ever more accurate and convenient to use.
If you are reading this on any other blog than G&R Technology Inc. or via our RSS Feed, it is stolen content without credit.
Come and visit our blog at http://www.grhardnesstester.com/blog/