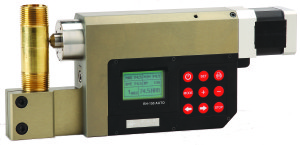 When using a Rockwell Hardness tester, the hardness value can be read directly from the scale. The Rockwell value will show up as a number, followed by "HR", and then a letter. We will use 50 HRB as our example. The number that appears is the hardness value. In our example, the hardness value is 50. The "HR" stands for "Hardness Rockwell". The letter that follows stands for the scale.  In our example, the "B" lets us know that it was measured on the B scale.  The most commonly used scales are "B" and "C" but there are many other Rockwell scales.
A -Cemented carbides, thin steel and shallow case hardened steel
B -Copper alloys, soft steels, aluminum alloys, malleable iron, etc.
C -Steel, hard cast irons, pearlitic malleable iron, titanium, deep case hardened
steel and other materials harder than B 100
D -Thin steel and medium case hardened steel and pearlitic malleable iron
E -Cast iron, aluminum and magnesium alloys, bearing metals
F -Annealed copper alloys, thin soft sheet metals
G -Phosphor bronze, beryllium copper, malleable irons
H -Aluminum, zinc, lead
K, L, M, P, R, S, V -Bearing metals and other very soft or thin materials,
including plastics.
Click HERE for the full article.