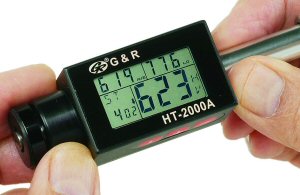 While there are several different types of hardness testers, the Leeb hardness tester is ideal for large objects. Unlike some of its counterparts, this device is portable, easy to handle, and capable of achieving highly accurate testing results.
In general, a hardness test is performed by pressing an indenter into a material with a particular force. With a Leeb tester, the hardness value is determined via the amount of energy lost from a defined impact body after it impacts a metal sample. The test usually only takes about two seconds to perform, as the tester applies an instantaneous load to the metal sample.
A Leeb hardness tester is composed of a carbide ball hammer and an electronic sensor. The hammer is powered by a spring rather than by gravity. As it travels away from the surface of the metal sample, the sensor measures the hammer's velocity. The results of a test can range from zero to 1000 depending on the object being tested. Since the device is electronic, the results can be easily converted to conform to more  traditional hardness scales.
These devices are capable of testing a wide range of materials. They can also measure objects from a number of different angles, as long as they are perpendicular to the surface being tested. Even individual parts of a large machine can be tested with these hardness testers. They require only a small surface area in order to conduct a test.
The hardness tester is used for a variety of applications in the petroleum, automotive, chemical, and utilities industries. Its small size and portability makes it easy for workers to use. In particular, the device is perfect for testing steel mill rolls and turbine housings.
There are many reasons why people should use the Leeb hardness tester. Its design makes it easy for anyone to use, and it is capable of providing accurate testing results. The device would be an immensely useful tool for commercial industries to have in their possession.
If you are reading this on any other blog than G&R Technology Inc. or via our RSS Feed, it is stolen content without credit.
Come and visit our blog at http://www.grhardnesstester.com/blog/